IT IS Odoo FixAddress
Adressverhalten in gebuchten Belegen bei Änderung der Partnerdaten in Odoo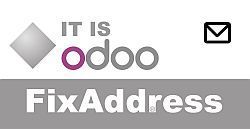 Statische Adressen
Static addresses in sales quotes, orders and invoices
This module copies the customer address values into the sales quote, order and invoice documents, when selecting a customer. Thus it ensures that changes of the address values within the partner record, do not affect the quotes, orders and invoices.
Our module supports the customer-, invoice- and shipping address within quotes, orders and invoices.The address values are displayed directly within the forms. To ensure that address information does not consume too much space, it is hidden by default and can be displayed by clicking on the corresponding link within the form.

Country specific configuration

For each country the format of the address can be defined accordingly. This configuration is used to format the address on the printed quote, order or invoice document.
Report output - the address values for the printed documents are taken from the quote, order or invoice document and formatted based on the country specific settings.