IT IS odoo textblock
Ihre persönlichen Textbausteine in Rechnung, Angebot und Bestellung einfügen
Neue Version für Odoo 11 und Odoo 12
Odoo Version 11
IT IS Odoo Textblock
Odoo Version 12
IT IS Odoo Textblock
IT IS odoo Textblock for Odoo 12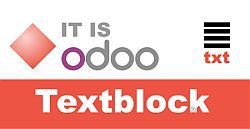 Create text blocks and lines, use placeholder
Mit unserem Modul können Sie Texte erstellen und als Templates speichern und somit in Belegen wie Angeboten, Einkaufsbestellungen, Aufträgen oder Rechnungen eingefügen. Sowohl ganze Textblöcke, als auch einzelne Zeilen, sowie die Verwendung von Platzhaltern ist möglich. Perfekt für alle, die schon immer in Odoo Kopfzeile und Fußzeile als Odoo Textbausteine vorgefertigt zur Auswahl haben wollten.
Features
Add text in reports

Create and edit text blocks and templates

Use placeholders for any values from Odoo

Text for greetings and signatures

Multiple languages

Texte formatieren

Schriftart ändern

Schriftgröße ändern

Texte farbig schreiben

Links setzten

Bilder einfügen

Textzeile einfügen

Anmerkungen hinzufügen

Textzeilen einfügen, um zusätzliche Anmerkungen oder Beschreibungen abzubilden.





Add text to product lines
You can easily insert text as a product in your quotes or invoices. Use pre-defined templates in quotes, sale order, purchase order and invoices.

Greetings on reports
Über die Konfiguration können Sie entscheiden, ob der Textblock als Grußformel angezogen werden soll.
Der Text erscheint somit auf dem jeweiligen Report über der Tabelle, zum Beispiel Produktzeilen im Angebot, Ihres Reports.
Die Phrasen werden gespeichert und stehen Ihnen immer wieder als Vorlage zur Verfügung.

Sie können auch direkt zwischen den Produktzeilen Textzeilen einfügen, um zusätzliche Anmerkungen oder Beschreibungen abzubilden.
Signatur bzw Schlussformel
Selbstverständlich können Sie neben der Grußformel auch Schlussformeln definieren. Diese werden im jeweiligen Report unter der Tabelle dargestellt.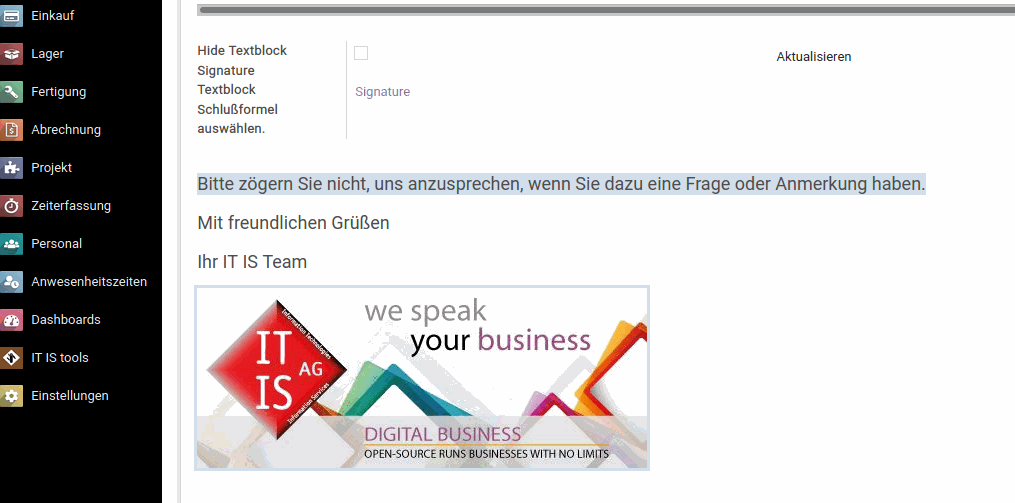 Darstellung im gedruckten Beleg

Defined and added text will be displayed in the pdf-report.