Edit Your Tasks according to your Needs

Das Odoo Projektmanagement Modul verfügt über ein Echtzeit-Projektmanagement, mit dem Ihr Team bei der Abarbeitung aller Projekt-Aufgaben wunderbar zusammenarbeiten kann. Behalten Sie den Überblick über alle Bereiche Ihrer Projekte, von der Projektübersicht bis hin zum kleinsten Detail und vom Kundenvertrag bis hin zur Abrechnung. Oder erledigen Sie Ihre Zeiterfassung mit Odoo Projektmanagement.
Hier finden Sie weitere Informationen zum Projektmanagement mit Odoo!
ODOO adapts to Your Process Flows

Organize your projects related to your workflow. Work on project tasks by using the Kanban view, schedule tasks with Gantt charts and check deadlines in calendar view. Each project can be divided in the individual phases, and so allow the whole team to optimize work processes.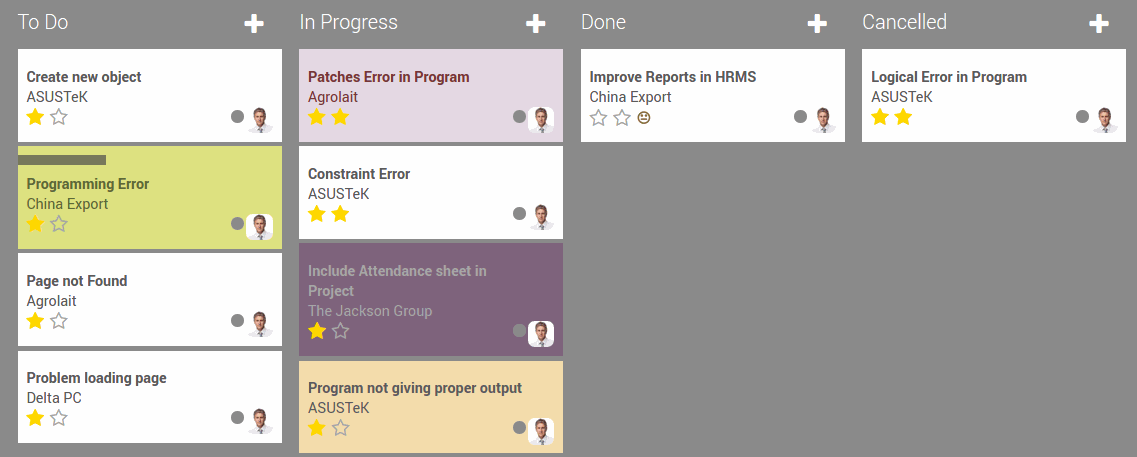 Kanban View

Gantt Charts

Calendar View

Easy to use

Organisieren Sie Ihre Abläufe so schnell wie noch nie! Die leicht verständliche Oberfläche ist intuitiv bedienbar und jeder Klick trägt zu Ihrem produktiven, durchorganisierten Workflow bei. Dank dem Odoo Task Management behalten Sie immer den Überblick.
Cooperation in the Creation of Documents -The benefits of "Etherpad" within your tasks

Edit the same data or meetings with other users directly within the application. The built-in "Etherpad function" allows you that several people work simultaneously on the same task.


This is highly effective, especially for short-term meetings or complex specifications. Each user is assigned a color and you can go through the entire content.

Erledigen Sie offene Aufgaben mit dem Odoo Task Management
Receive notifications of subscribed events to stay up to date to be. Use green / red as a visual aid to see which tasks are still open or already completed.

Working Time Accounts, Contracts, Invoices

Projects are automatically linked to customer contracts. So it is easily possible to create invoices based on time, material costs and working time accounts.

Keep Track -Support, Counseling, Bug Tracking u. V. M.

Filter to this targeted and edit schedule to individual tasks out which are due in a project. Integrate customer contacts in each task, so as to obtain accurate reports on the effectiveness of your team.