Human Resources -Manage the most important asset in your company: Your Employees

You can easily manage all your personal tasks: knowlege sharing, recruitment, reports, timesheets, contracts, attendances, payslips and everything your stuff needs.
Every function can be activated through an app, all informations are saved in the cloud.

Successfully manage your employees

Oversee all important information in your company's address book. Restrict some information to HR managers, and make others public for all employees to easily find their colleagues.
Record employee contracts and get alerts when they have to be renewed.

Rationalize your recruitment process – index CVs, manage candidates, search profiles
Publish job advertisments and keep easily the overview of already acquired applications. Organize job interviews with the practical kanban view.

Save time while accelerating your communication with email templates. CVs are automatically indexed so you can easily find the searched profiles.

You can also save your own settings: e.g. every candidate who is sending his CV and motivation letter is automatically seen by the system as "accepted".

Social Corporate Network - work across departments and applicationsoperate across borders

Set out information barriers and resistances. Share the knowledge informations with all your employees. Prevent that some employees keep their knowledge to themselves. Network with experts, get the right documents or join groups with the same interest.
Track working time and attendance -weekly or monthly timesheets with optional attendance tracking

Monitor the attendance, working time and control the time spent by project, client or tasks.With Odoo it is very easy to record timesheets and the attendance of your employees.Your Analytical accounting captures automatically the time spent on projects.
Leave ManagementManage holidays, legal leaves and sick days

Keep the overview over all vacation days, legal leaves and sick days taken by each employee. They enter their requests (paid holidays, sick leave, etc) and managers approve and validate them, all in just a few clicks.
The attendance overview of each employee is updated accordingly.
Employee expenses

Manage and control your employees expenses directly in odoo – without tiresome paperwork. Save time by putting the staff expenses directly on the right customer invoice.No need to download any specialized software or program to manage expenses - everything can be done directly in the app!

Regular employee appraisals

Manage employee evaluations and create appraisals in a few minutes to review the development of your employees. Odoo is reminding automatically the HR to check the respective employee.


Set up periodical employee evaluation.

Increase the commitment of your employees with Gamification -Definate clear goals and get feedback in real-time

Inspire achievement with challenges, goals and rewards. Design your own targets, define clear objectives and get real time feedback and tangible results. Presente your best employee to the entire team and publish exceptional work.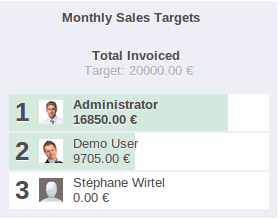 Leaderboards
Compare the success of your employees and award the special ones.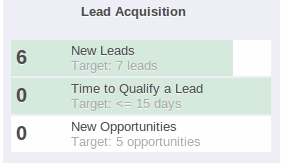 Personal targets

Manage your employees with clear objectives to get them familiar with your corporate goals.


Sales forecast

Compare the sales of individual teams with the forecast and your budget – in real time.